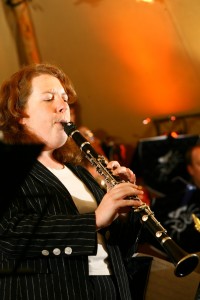 Catherine is currently Senior Lecturer and Head of Music at the Open University. She studied Music at the University of York, then worked as music teacher in secondary schools in Newcastle and London. During this time, she also worked and performed with the National Youth Music Theatre and was a founder member of Payback, one of London's leading function bands. Catherine has a Ph.D. from City University, London and was Head of the Centre for Jazz Studies UK at Leeds College of Music until 2008.
Catherine has published a number of books, chapters and articles on jazz. Her first book "The Evolution of Jazz in Britain 1880-1935″ (Ashgate, 2005) is considered "unarguably the most important book ever written about either British jazz or jazz in Britain". More recently, she has published a monograph on Benny Goodman's Famous 1938 Carnegie Hall Jazz Concert (Oxford University Press, 2012) which won Jazz Publication of the Year in the 2013 All-Party Parliamentary Jazz Appreciation Group awards. She is also co-editor of Black British Jazz: Routes, Ownership and Performance (2014), an output from the AHRC-funded project 'What is Black British Jazz?'  From 2012 to 2014 she was Principal Investigator of the AHRC Research Networking project 'Atlantic Sounds: Ships and Sailortowns' and continues to develop work on music and the sea, with particular reference to Britain and the Atlantic.Catherine is a co-editor of the Jazz Research Journal (Equinox).
Catherine is currently Jazz Representative on the Council of Making Music (supporting and championing voluntary music) and a member of the Jazz Education Advisory Panel for Jazz Services. She appears regularly on television and radio, including Len Goodman's Big Band Bonanza (BBC Four, 2014), a Culture Show special 'Swinging into the Blitz' (BBC Two, 2013) and Thinking Allowed (Radio Four, 2013). She has also been an advisor for TV period drama. Catherine is a regular pre-concert speaker at the Leeds International Concert Season, and has also presented talks at the London's Barbican and Southbank. Recently she was chosen to curate a public event for the 2015 Cheltenham Jazz Festival.