Thinking of choosing a big band for your wedding entertainment?
You can be sure to hit the right note with all your guests by choosing a big band for your your wedding – the most elegant party you'll ever host. With guests from every walk of life: young and old, family, friends and colleagues, a 20-piece big band with male and female vocalists has the wow factor, will bring a touch of class to your evening entertainment, and will turn your first dance into a Strictly spectacular!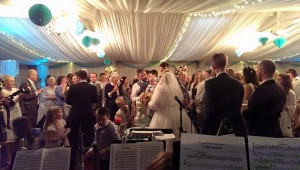 The music we play appeals to guests of all ages, from those who experienced the originals in the '40s and '50s to those whose first experience of the big band sound was through more recent acts such as Robbie Williams and Michael Bublé. We will tailor a programme to feature songs and numbers through the decades that will get all generations on the dance floor and create the kind of atmosphere you're looking for. In our repertoire we have upbeat jazzy numbers to get the party started, slow smoochy songs to get even the most dance-shy guys up on the dance floor, and cracking showstoppers that will have all your guests high-kicking till they drop.
Why chose Dr Jazz and the Cheshire Cats?
Dr Jazz and the Cheshire Cats regularly perform for weddings in all kinds of venues across the North West. From the initial contact made by a couple-to-be, through the months of planning required to get to the big day itself, we will work with you to make sure that your wedding entertainment will go with a swing. Taking account of any requirements and requests you have, our musical director will put together a bespoke playlist just for you. We only take on a limited number of engagements a year and so you can be sure that the band will be there to play for you because they want to and will work to make the performance special.
If you would like Dr Jazz and the Cheshire Cats Big Band to play for your wedding, please get in touch.