This is the first of what we hope will be many blogs from Dr Jazz herself (aka Catherine Tackley) giving you a glimpse 'behind the scenes' to see what the Cats are up to.
This Autumn we have been working on repertoire for two gigs: a recent appearance at the 'Big Band Swing Concerts' at Cheadle Hulme Conservative club, and our regular 'Swinging Christmas' extravaganza, this year at Thelwell and Grappenhall Royal British Legion on 12th December. I can't mention our Cheadle appearance without applauding the tireless efforts of the volunteer promoters who stage monthly big band concerts that attract a healthy audience and give local bands such a warm welcome. I always try to incorporate something a little unusual into our appearances there – it's a bit different to gigs where we play for dancers, or have particular requirements from a client, and the audience are particularly knowledgeable and attentive. This time we played the Ellington/Strayhorn Nutcracker Suite, looking forward to the festive season. The Cheshire Cats have a particular affinity for Ellington and over the years we've worked hard at getting the balance and sound 'just so'. The Nutcracker is difficult to play – virtuosity required in all sections – but perhaps particularly tricky is the lack of harmonic 'filling' from piano and guitar for the majority of the movements, which can make soloists, and the bass player, feel a little exposed! But the Cats certainly rose to the challenge.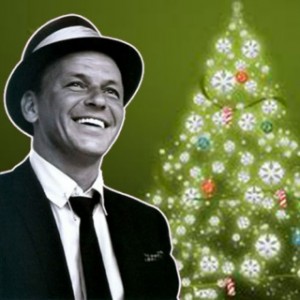 So to our final preparations for Christmas. As well as a little Nutcracker, our 'Swinging Christmas' celebration will particularly spotlight our two vocalists. Jo has been working on some great new vocals – we're always enlarging our stocks of Ella Fitzgerald numbers which really show off her voice and give the band plenty to get stuck into as well. But lately we've been getting into Caro Emerald – we learned 'A Night Like This' earlier this year, and recently added 'That Man' in a clever up-tempo arrangement which borrows from the famous big band instrumental 'Sing, Sing, Sing'. Meanwhile, Peter is gearing up for an epic Sinatra set, since the gig coincides with what would have been the Rat Pack leader's 100th birthday. With so many fantastic songs in great arrangements it was always going to be difficult to choose, so we've selected our favourite numbers from Sinatra's heyday. There will be some great instrumentals from the books of Count Basie, Charlie Barnet, Gil Evans, Duke Ellington and a very special new addition to our repertoire featuring keys player Ian. We'll round things off with a very special Christmas set. On top of all that, we'll be welcoming our friends from Mersey Swing to show off their moves on the dance floor. All this for only £10 (£8 concessions), and we'll even throw in a mince pie! Get your tickets before they sell out! I hope to see you there.
Ticket are available online through WeGotTickets.
Best wishes for the festive season,
Dr Jazz